ELVA
This is driver. And road. At one. | PURE, UNDILUTED CONNECTION
A car that needs no destination. Or racetrack. Created to deliver nothing but the purest possible driving experience. Uncompromised pleasure. The McLaren Elva… born to heighten every sense and build the closest connection between driver, car and the elements. Impossibly light. Intoxicatingly powerful. Split-second agility.
The Elva pushes our daring design language forward. And proudly embraces the principles set down by Bruce McLaren's original race conquering open-top sports cars of the 1960s - the M1A, M1B, and M1C. Just like our latest Ultimate Series, the original road-going 'Elvas' were lightweight, open-roofed, mid-engined… and single-mindedly created to deliver a driving experience of exhilarating purity.
In our new Elva, form follows function more closely than ever. Clean, fluid lines and bold shapes flow together and blur the boundaries between inside and out. Cohesive design that makes a perfectly balanced whole.
To make sure you get maximum enjoyment from the elements, the Elva has a pioneering active air management system [AAMS]. It works by guiding high-speed air over the open cabin, creating calm around driver and passenger. It means you get the full adrenaline rush, undistracted.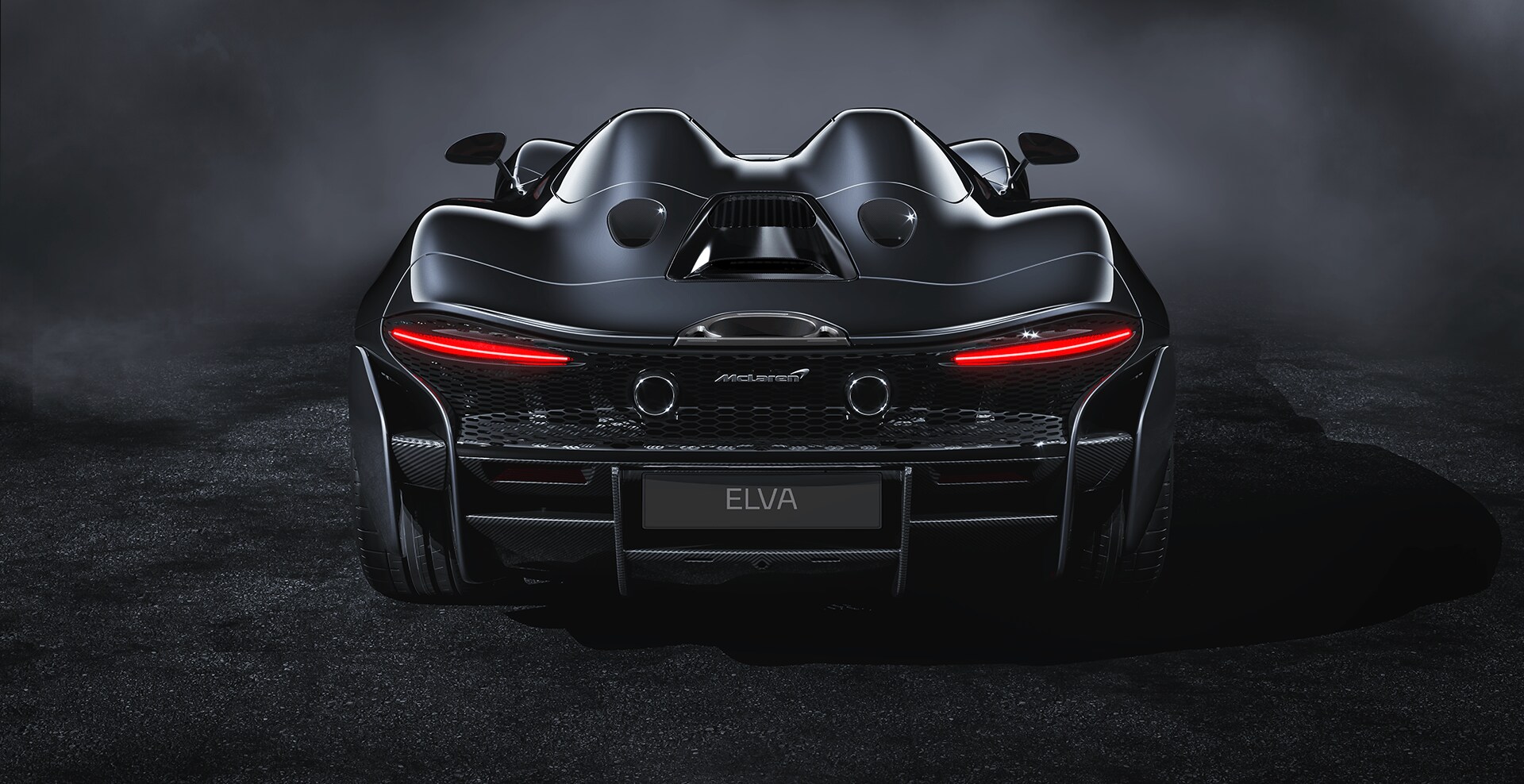 NEW RULES OF ENGAGEMENT
The Elva takes you to the razor-edge of driver engagement. Nothing connects you more closely to the thrill. The view forward is always epic… there is no roof or windscreen to get in the way. The feeling of space and blurring scenery won't be forgotten. The Active Air Management System doesn't let turbulence spoil the moment either. This is the most agile McLaren yet. Responses and feedback raise the game to a whole new level. And fully harness the ferocious potential of a 4.0L Twin-turbocharged V8 with 815PS with 800NM of torque - thundering its richer soundtrack into the cockpit thanks to the bespoke quad exhaust system. This almost supernatural agility is also down to Proactive Chassis Control II, which delivers sublime handling on road or track. Electro-hydraulic steering is full of feel and adds to the intense sense of connection. So does the unique suspension with bespoke tuning. Sintered Carbon Ceramic brakes provide mind-bending stopping power.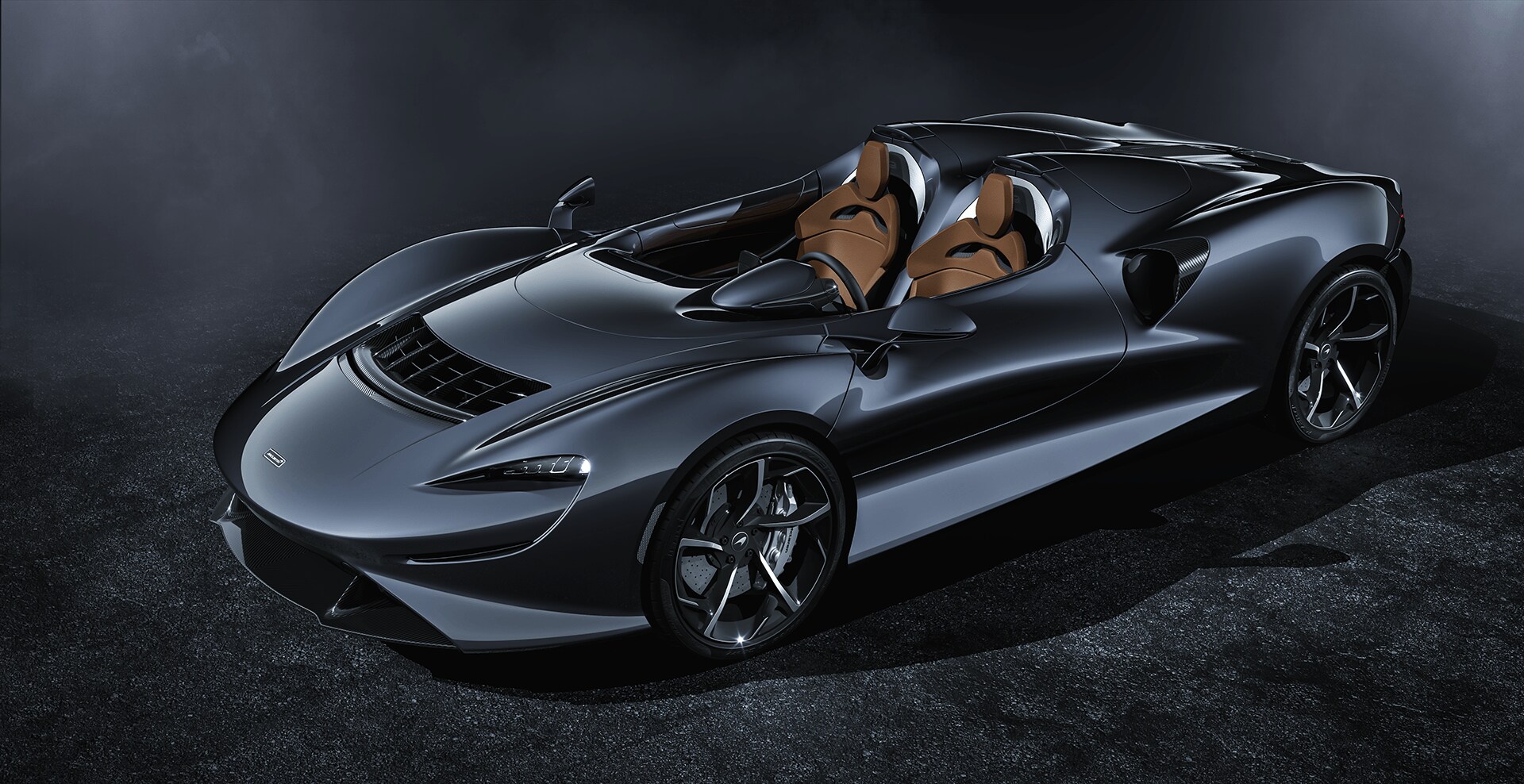 BLURRING THE BOUNDARIES
This is the next chapter in the McLaren design story. It's about bold forms, clean lines, and fluid movement. The flow blurs all boundaries between the interior and exterior, merging into a stunning whole from every angle. Formula 1 is a big inspiration. The clean, fuss-free body sides and shrink-wrapped muscular shapes come straight from ideas forged in the heat of ultimate competition. Carbon Fibre is used throughout. And beautifully machined solid metal details display the exquisite craftsmanship that helps define every McLaren Ultimate Series. Moving inside is a smooth transition. You're not crossing any lines but you are entering a space that cocoons driver and passenger. Advanced Ultrafabric materials protect the cabin and unique carbon fibre seats deliver comfort and support even at the extremes. The sense of total engagement is strengthened by an instrument binnacle that's connected to the steering column and moves with it. Driving mode controls are always at your fingertips.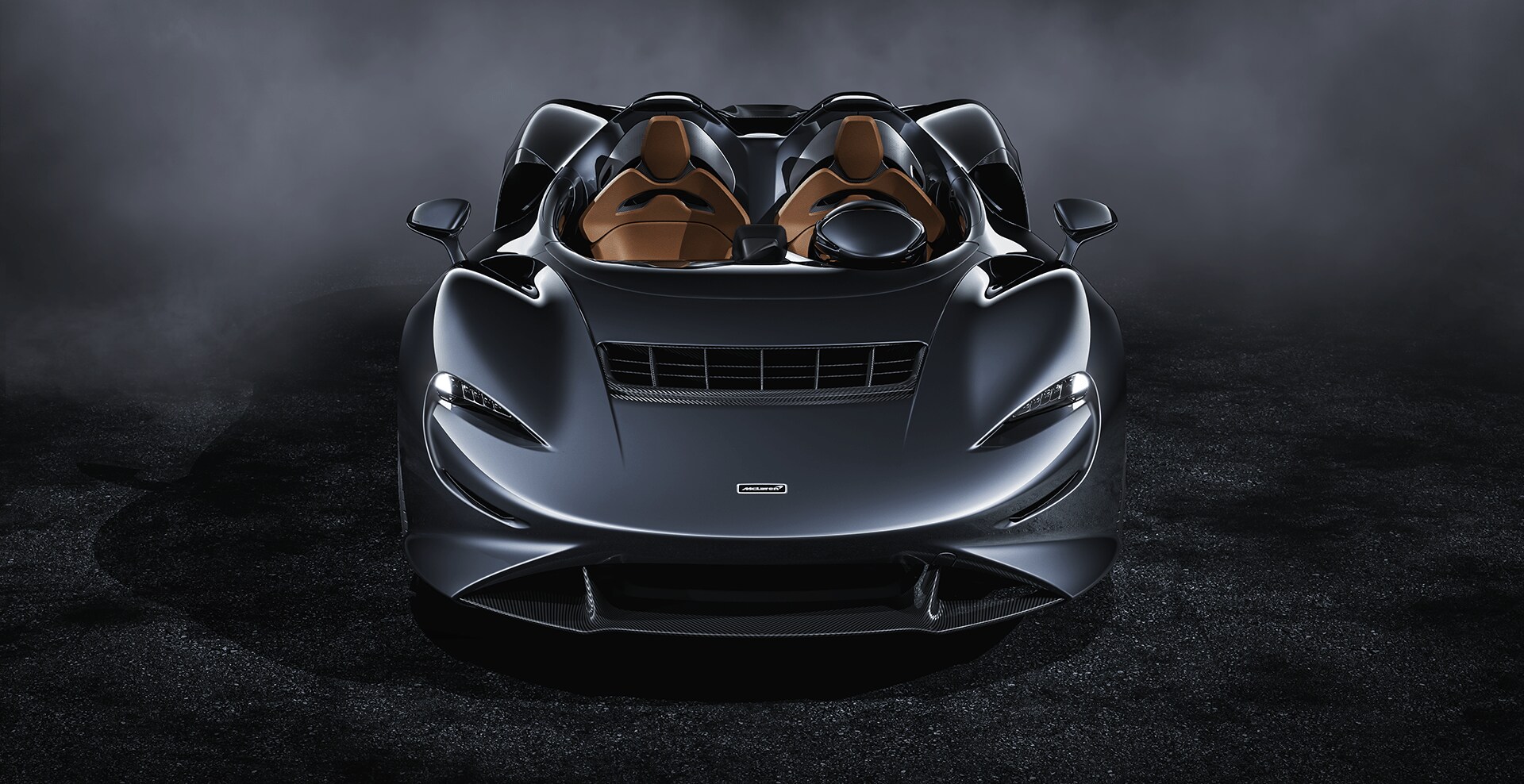 AIR POWER
A master class in aerodynamics. Shaped to make full use of airflow. The Elva's Active Air Management System [AAMS] is a world first. Using two sculpted elements to guide high-speed air over the cabin, it creates a turbulence-free zone for driver and passenger for total comfort and control. And despite having no roof, the Elva still generates enough downforce to enhance the incredible handling. A full-width carbon fibre active rear spoiler sends a clear message about the car's radical and pure performance focus. It changes position to maintain the perfect aerodynamic balance and instantly becomes an airbrake to add huge stopping power when needed. In the spirit of Formula 1, there's also an auto DRS mode to cut drag and boost acceleration.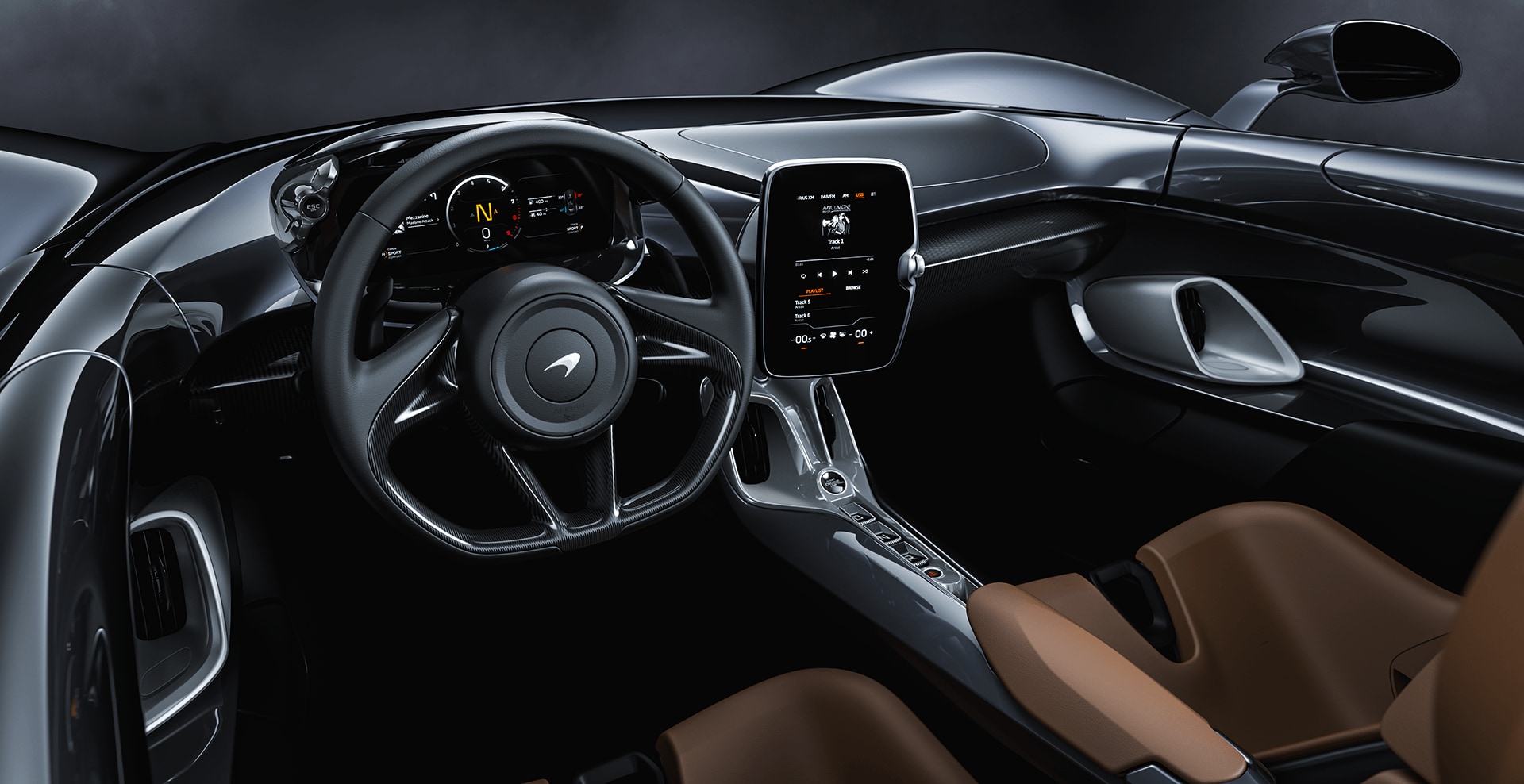 THE LIGHTEST YET
The lightest McLaren road car ever made proves that less is more. Loud and clear. Uncompromising hypercar construction uses a bespoke carbon fibre design based on Monocell II. The unique upper body also incorporates a deployable rollover protection system [ROPS] for maximum passenger safety. The stunning Full Carbon Fibre Body is made from just three main panels. This creates a clean, sculpted profile and stays true to the ultra-lightweight ethos. More weight is slashed thanks to the low-profile carbon fibre dihedral doors. Precision engineered and practical, they add a dramatic flourish as they rise from the deep curved sills. Beneath the elegant forms of the tonneau cover is enough space for everyday belongings and - of course - the driver's helmet.