A GT4 RACE CAR FOR THE ROAD
New limited edition coupe based on 570S GT4 will be first car in its class to offer true motorsport credentials in a fully road-legal package.
The 570S GT4 is the most successful GT race car we have ever built. Since its debut in 2017 it has won races in every championship it has competed in across four continents, and racked up more wins and more podiums than any McLaren to date.
Race cars, of course, must conform to strict motorsport regulations, but what would the 570S GT4 be like if freed from those restrictions? Today you have the answer: the McLaren 620R.
Being the most powerful car in the McLaren Sports Series - and also the fastest around the track - the 620R is a truly unique proposition. It not only looks like a race car, it handles, performs and feels just like a race car too. And with production strictly limited to just 350 examples, it will be as rare as it is extreme.
Based around the 570S GT4's single-piece carbon fibre Monocell II chassis, the 620R is lighter than any other mainstream Sports Series model. Its motorsport DNA is further enhanced by the adoption of the GT4's adjustable aerodynamic elements, race-derived suspension components and a powertrain recalibration that increases power output to the 620PS (610bhp) which gives the car its name.
"The McLaren 620R is a limited edition, superlight coupe that is the perfect choice for an enthusiast wanting an authentic motorsport driving sensation - and performance to match - on both track and road" - Mike Flewitt CEO, McLaren Automotive
Performance will naturally be formidable - 0-100km/h (0-62mph) takes just 2.9 seconds - but the 620R is primarily set up to be a road car capable of posting phenomenal lap times. You can see this in the incredible attention to the details of the specification. Stiffer powertrain mounts are deployed to reduce inertia under high load, the 7-speed SSG gearbox offers McLaren's Inertia Push technology for super-fast shift times, while the GT4's manually adjustable dampers offer 32 clicks of adjustment at each corner (and weigh 6kg less than regular dampers).
The lightweight motorsport suspension features aluminium wishbones and stiffer anti-roll bars. This, with McLaren's latest lightweight braking system featuring a McLaren Senna-derived brake booster, combine to make the 620R a scalpel-sharp performer on road or track.
The car also offers a choice of Pirelli performance tyre to suit either of those environments - the standard P Zero Trofeo R semi-slick or the optional, track-only full slick. The latter, specially developed for McLaren by Pirelli's Motorsport team, offers an 8% larger contact patch with the track surface, bringing lap times down even further. This is the first time a road-legal car with 19-inch front wheels and 20-inch rears has been engineered to run on slicks without the need for additional mechanical adjustment.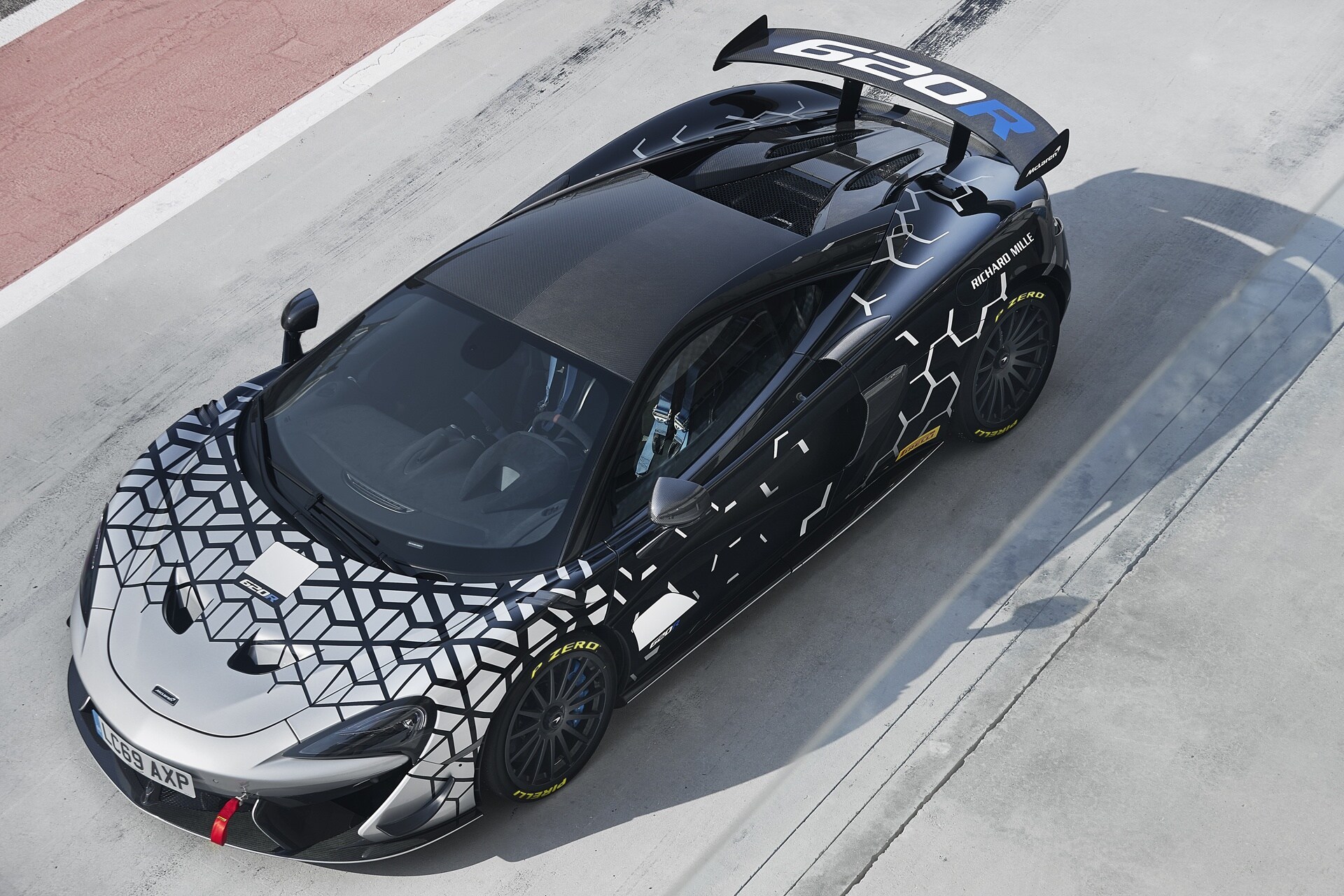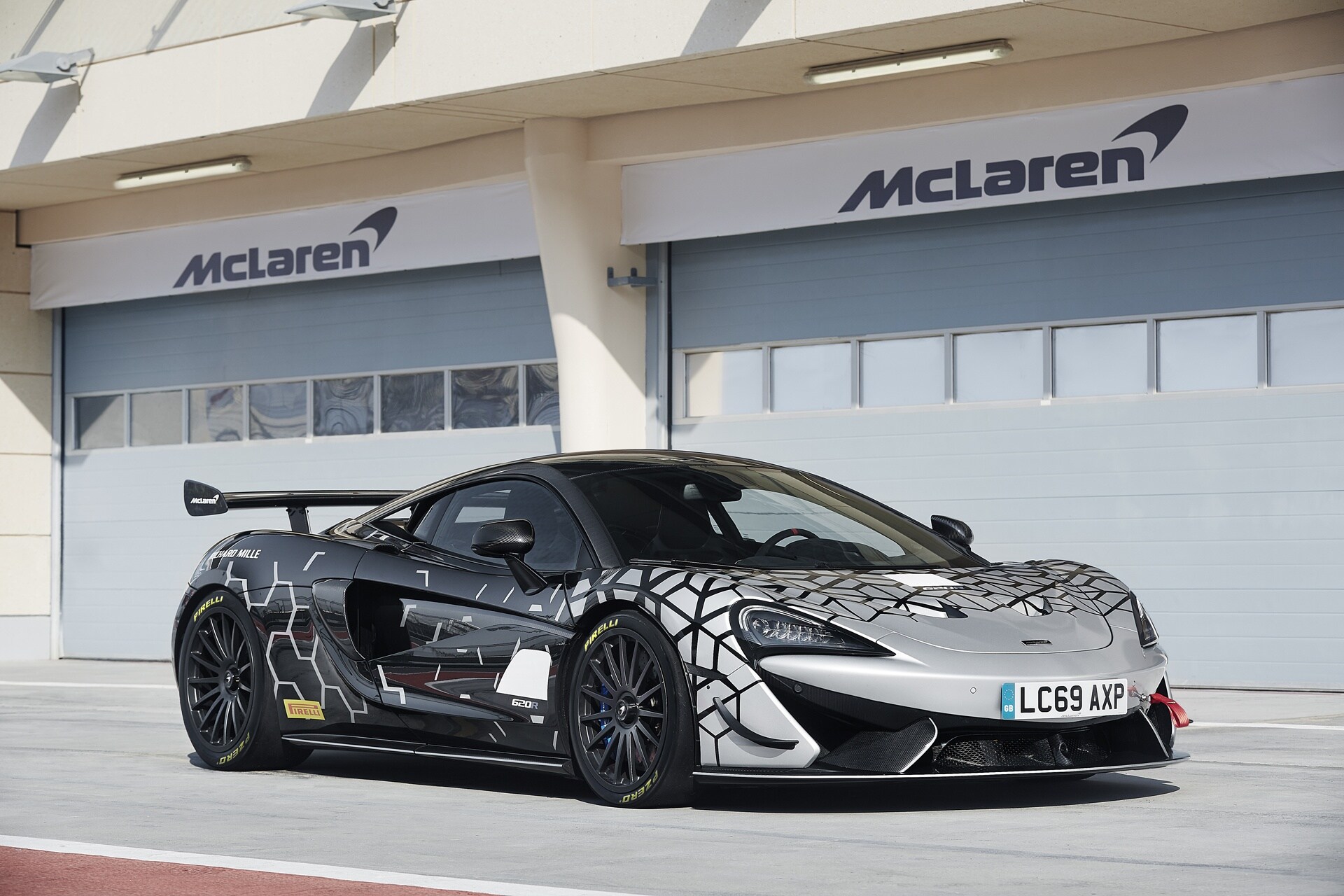 Aerodynamic performance is also key to the 620R's motorsport credentials. It borrows the GT4's adjustable carbon fibre rear wing - rendered road legal by the addition of a third brake light - which adds 185kg of extra downforce when set at the most aggressive of its three angles. The front bumper, splitter and bonnet have been redesigned for the road, adding 65kg of extra downforce at the front.
Inside the cockpit there's no doubt we're dealing with a racing-inspired machine. Super lightweight carbon fibre racing seats with six-point harnesses, carbon fibre shift paddles and the McLaren Track Telemetry system are standard, while floor carpet, glovebox, air-con, audio system and IRIS navigation have been deleted to save weight (although the last three can be added).
The 620R is available in three standard, GT4-inspired colours, McLaren Orange, Silica White, Onyx Black, but many other options are available through McLaren Special Operations (MSO), including exterior packs, race decals and a special livery inspired by the McLaren Senna GTR.
'The McLaren 570S GT4 is a first-class GT race car that is attracting an increasing number of customer racing teams,' says Mike Flewitt, McLaren Automotive CEO. 'Now, in response to repeated customer requests, we have homologated that class-leading package for the road in the new 620R.'