McLaren 765LT
RADICAL. RELENTLESS. REBORN. AGGRESSIVE. PURE. CREATED WITH SINGULAR VISION
At McLaren, we do not fear the unknown. We do not fear the challenge. The new McLaren 765LT has a legend to live up to: Longtail. Every car that's carried this name has been unique. Extreme and utterly focused around the driver. All about maximum engagement. Searing performance. Sensational handling.
Being based on the incredible 720S, the latest LT has everything in its favour. A flying start. And it delivers on every level. Radically lightened and lower, the 765LT uses innovative aerodynamics to create 25% more downforce than the 720S. And this is the most powerful LT yet, with a shattering 765PS. Just 765 will ever be produced. For the lucky few, the next chapter is beginning… Introducing the new 765LT. Born from fearless engineering.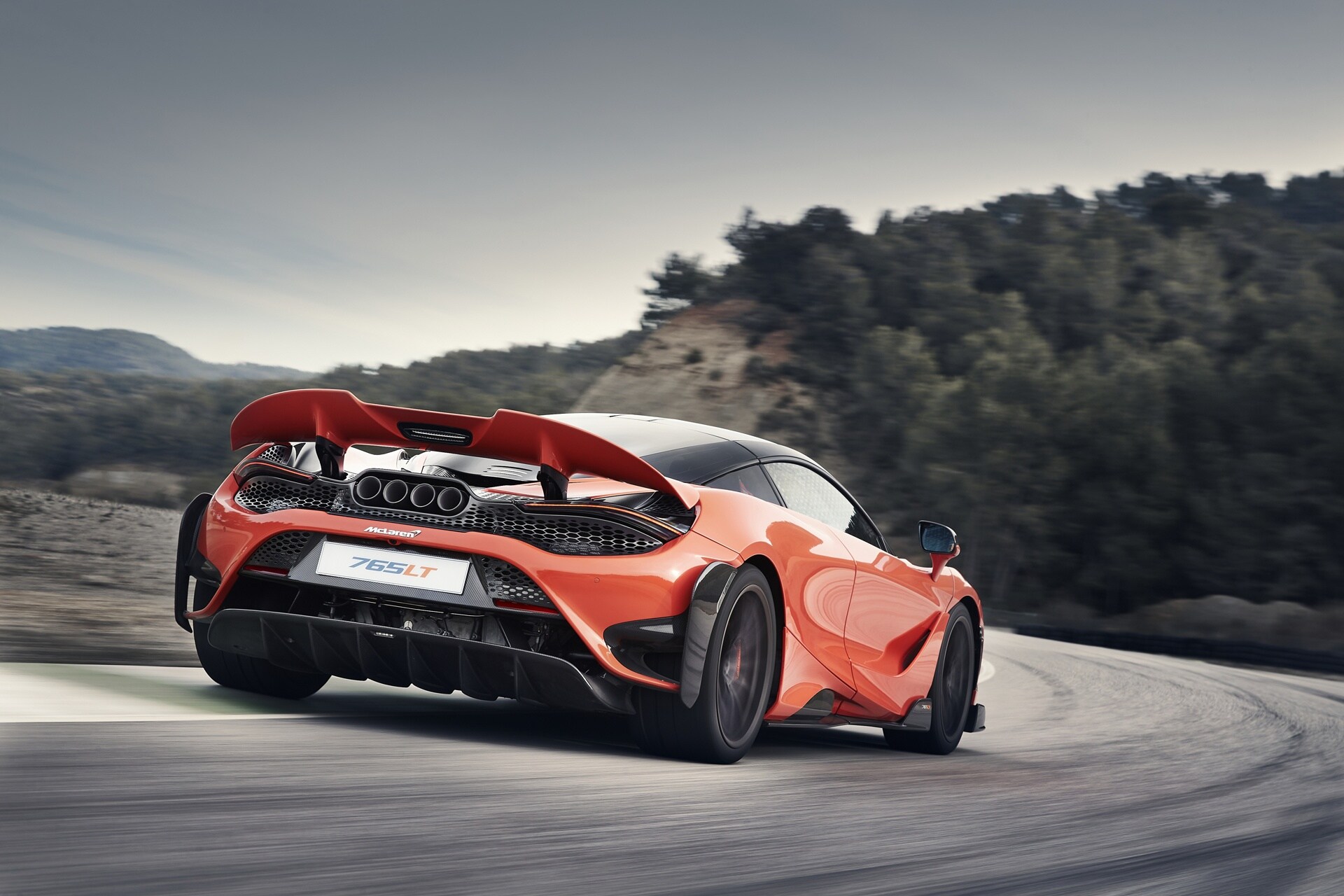 HONED AGGRESSION
Uncompromising. Singular. Focused. shaped by the pursuit of driving purity. The 765LT. Taking the perfectly formed 720S closer to the edge. With a powerful presence and aggressive design language that deliver incredible performance. Less weight. More downforce. Aerodynamic innovation. Bespoke carbon fibre body panels shape an iconic elongated profile. Suspension is lowered. And the front track is wider. The message is clear: nothing gets in the way of dynamic ability. Everything is here for a reason. Inside the 765LT, the unblinking sense of purpose and minimal clarity continue. There's lightweight Alcantara®. And the seats used in the awe-inspiring McLaren P1™. Sculpted carbon fibre is everywhere. The Longtail story continues.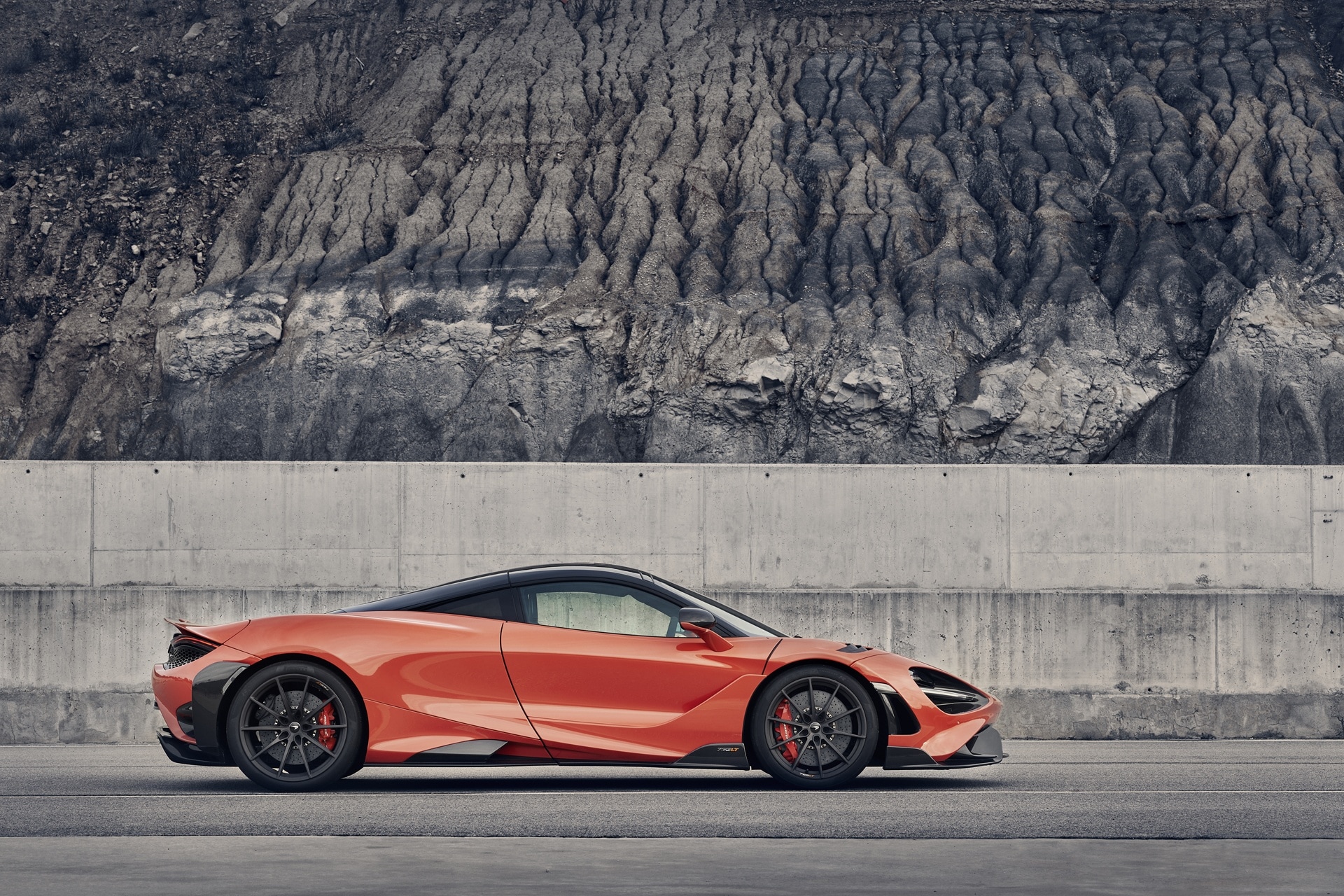 PURSUIT OF LIGHTWEIGHT
Lighter is faster. And it begins with MonoCage II. An immensely strong, stiff, ultra-light chassis at the heart of each McLaren super car. It's a perfect base for radical weight saving. New carbon fibre body panels, motorsport-inspired polycarbonate glazing, a unique and dramatic titanium exhaust system, light dual-spring suspension… Longtail DNA is woven into everything. The result is a car that weighs 80kg less than the immensely lean 720S. Settle into the lightweight seats within the sculpted, ultra-functional cabin and you're surrounded by more innovative, engineered lightness. The carbon fibre centre tunnel is bespoke. Anything not connected to driver focus is gone. So there's no air conditioning. Or carpeting. Or audio system. Less is more never felt so real and vivid. The 765LT can be specified to just 1,229kg in dry form. And has a class-leading power-to-weight ratio of 622PS per tonne. Numbers that must be experienced to be appreciated.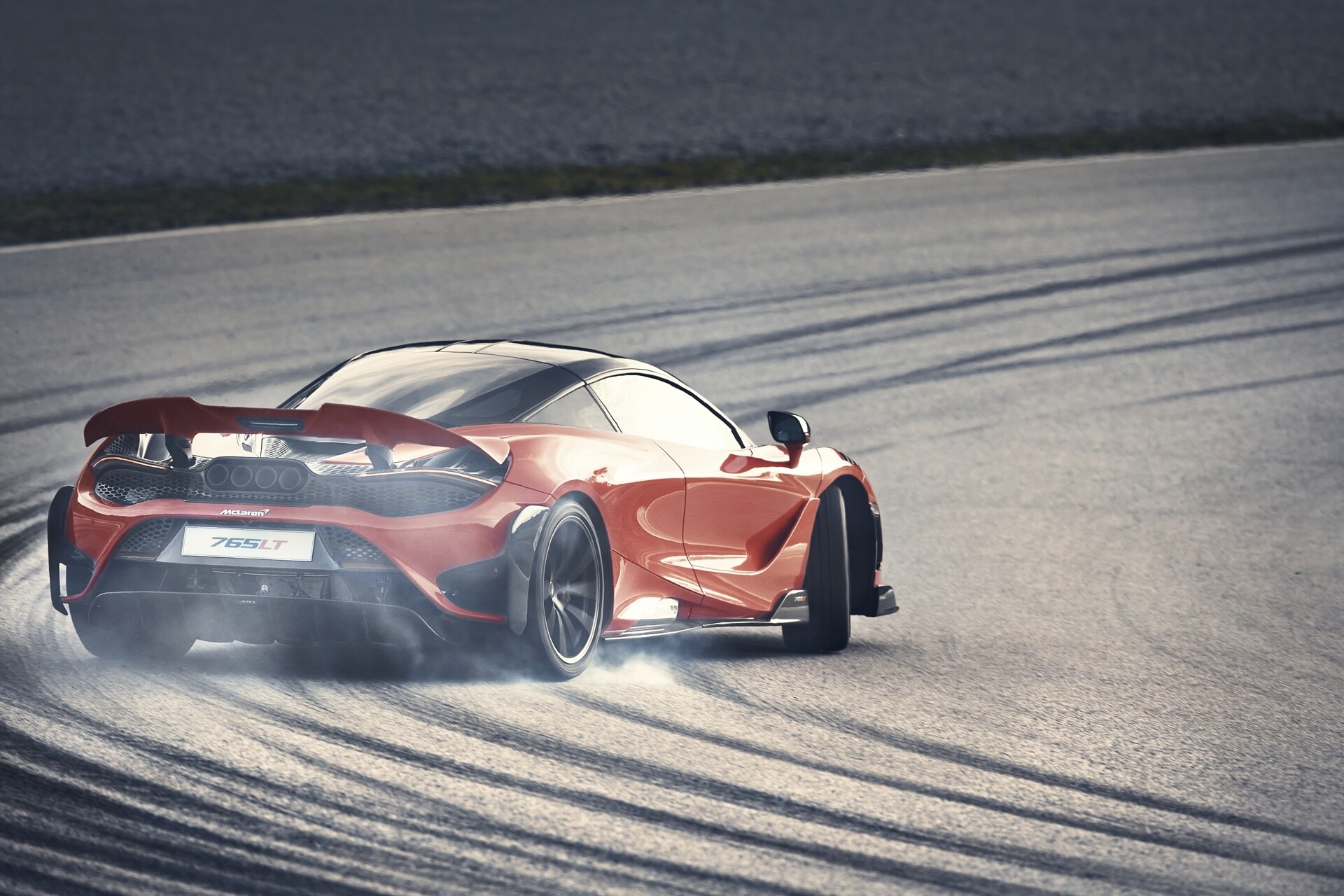 THRILLS, DISTILLED
Driver and car as one. A pure, undiluted connection. Every part of the 765LT is designed to make this relationship more telepathic than ever before. Beyond blistering performance and inspiring chassis dynamics, engagement is heightened in many ways. Sensitive tactile electro-hydraulic steering now has an even quicker rack. And a stiffened steering torsion bar. Responsiveness is instant and true. The cabin is alive with sound and feel from the stunning powertrain. Each sensation is made more vivid by classic LT elements. Like the stiffer engine mounts and polycarbonate glazing. While the dramatic new quad-exit full-titanium exhaust gives spine-tingling voice to all 765PS. And adds to the sheer visual drama. Grip and cornering ability are next-level - with bespoke Pirelli P Zero™ Trofeo R tyres. The 765LT is changing the game in driver engagement.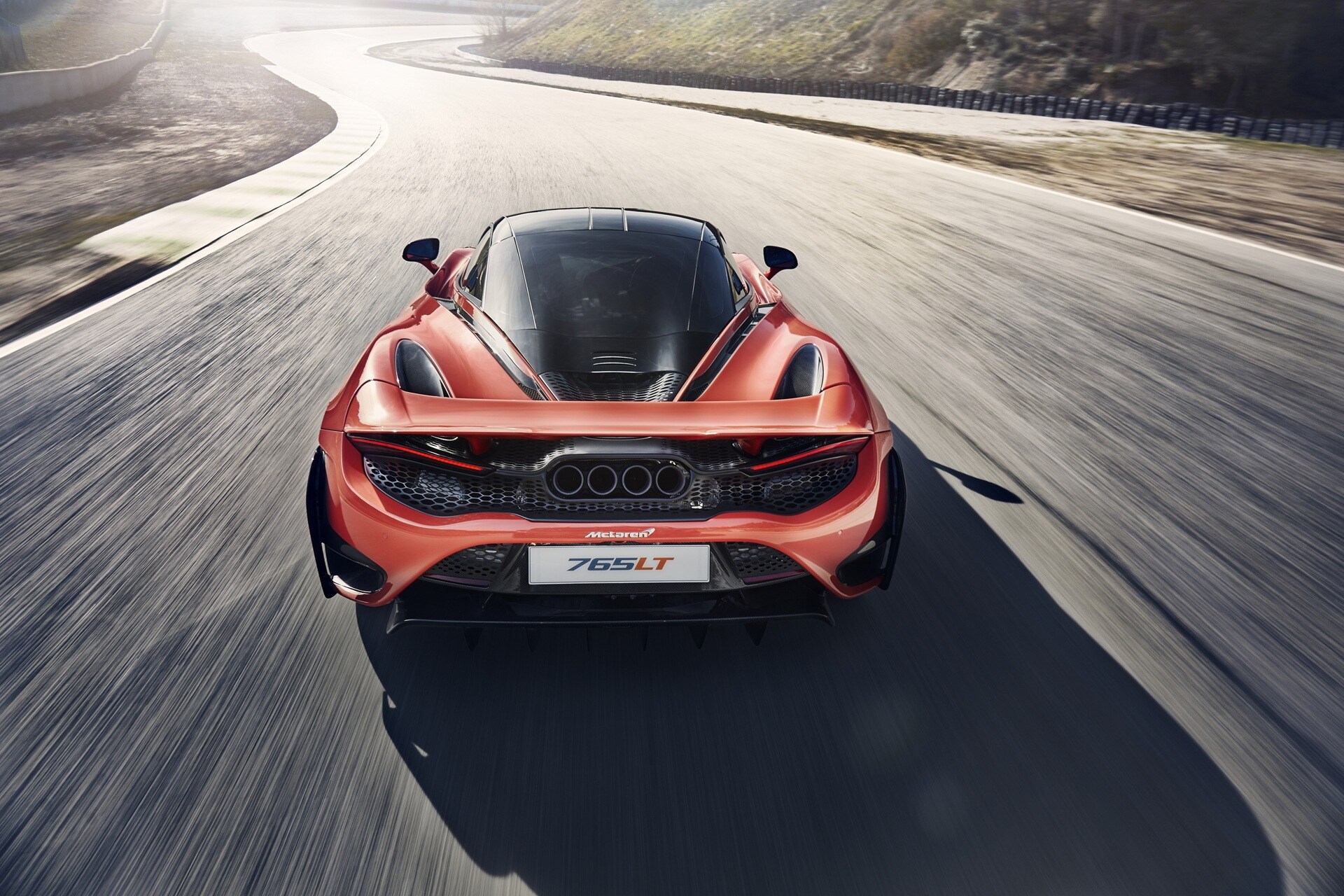 INTOXICATING POWER
The new McLaren GT is supremely quick. In fact, it's the fastest car in the class - with blistering acceleration. But it's the way this astonishing performance is delivered that's uniquely special. The new McLaren 4.0 litre twin-turbocharged V8 engine delivers near endless power and torque, yet it's also tuned to be refined and efficient. So acceleration is seamless and smooth. Poise and polish, too, are always part of the drive. The new McLaren GT offers the perfect blend of body control and ride comfort. Thrilling handling is balanced with laser-precise straight-line stability. And there's a stirring exhaust note that's unlike any other McLaren.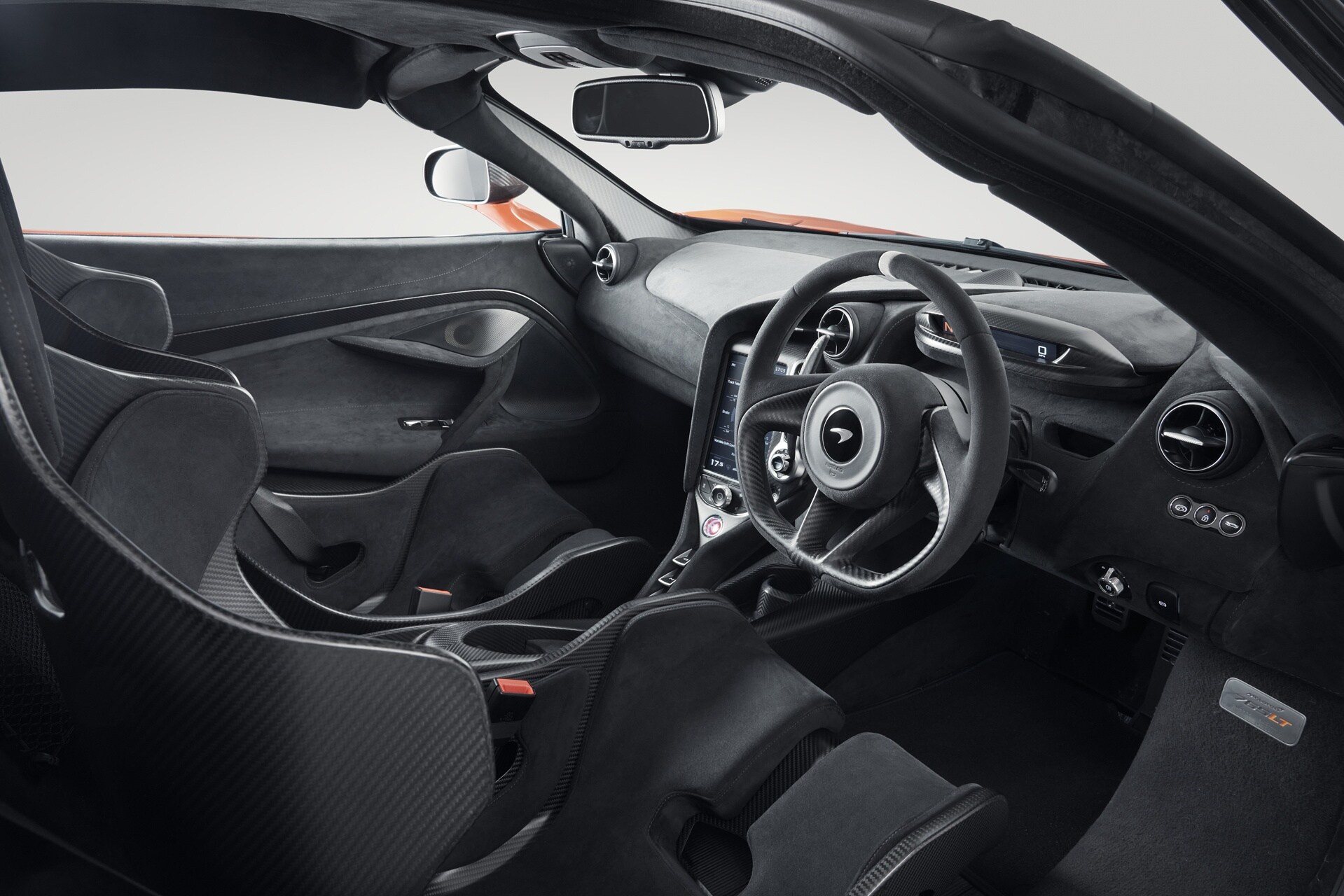 TRUE TO FORM
Every Longtail is shaped by the spirit of rebellion. An obsession with going faster. Being better. Questioning everything and refusing to compromise. This extreme ethos inspires the design of the 765LT in every way. It's all about purposeful aggression. You sense it in the elongated profile and lower stance. You see it in every beautifully engineered detail. Like the newly designed front splitter and bold side air intakes that invoke the legendary 675LT. A McLaren Senna-inspired carbon fibre front licence plate plinth celebrates McLaren motorsport DNA and total performance focus. Audacious attitude and functional quality also make the interior unique. Track ready and dramatically minimal, it surrounds you in lightweight Alcantara®. Deeply sculpted racing seats based on those found in the McLaren P1™ place you perfectly. A unique carbon fibre tunnel flows through the centre of the cabin.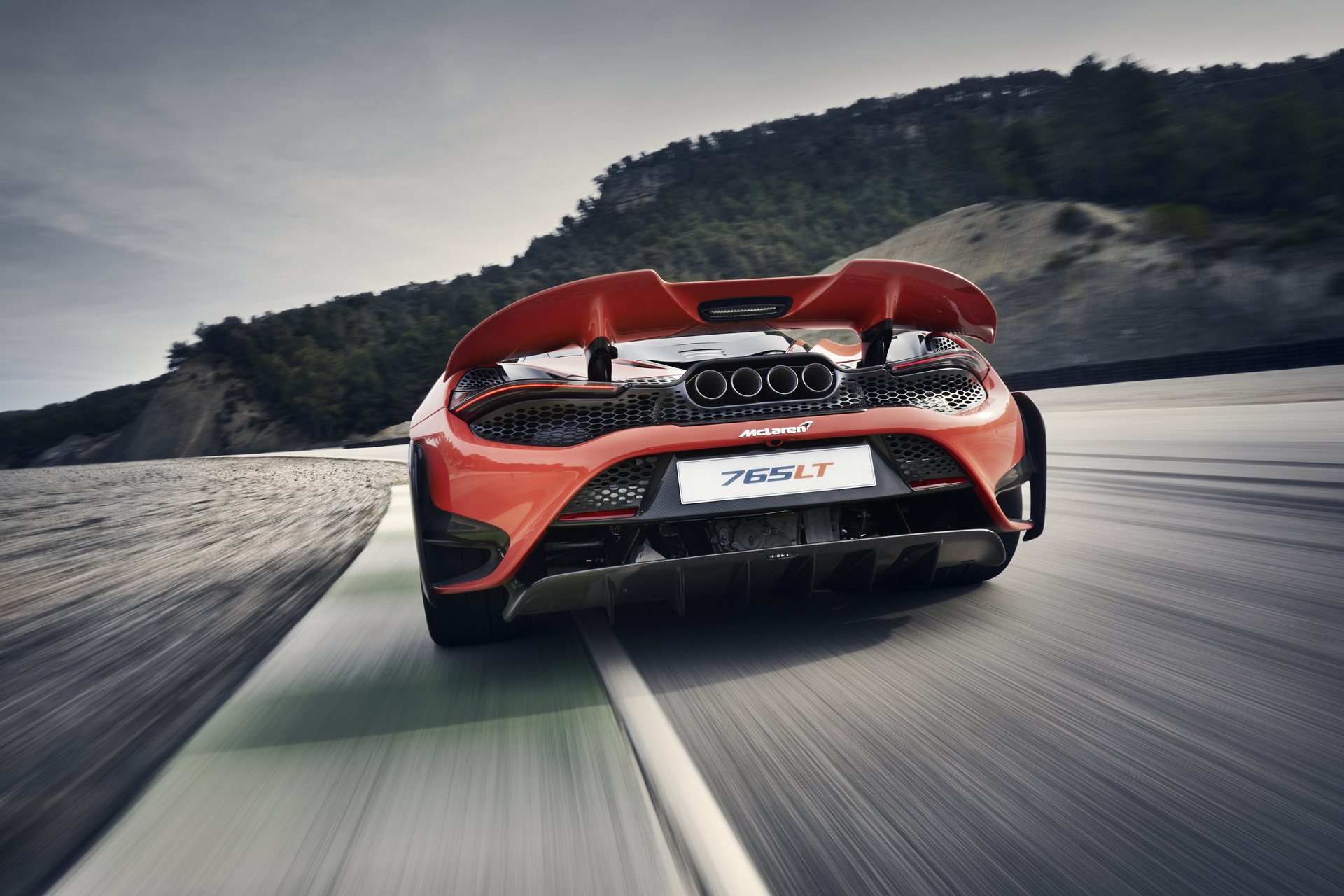 AERO PERFECTION
Bespoke carbon fibre body panels create a unique and thrilling silhouette. While a new active rear wing defines the Longtail profile. It boldly signals the rarity and extreme character of the 765LT. But as ever, form strictly follows function. This ingenious feat of engineering from the McLaren Composites Technology Centre (MCTC) maximises downforce and decreases stopping distances. The lowered front suspension and widened front track add menace and poise while ensuring extra sensory handling on road and track. Look at the 765LT and you'll know. From its aggressive new facial signature. To that extended active rear wing. This is a whole new chapter… in a story of relentless performance.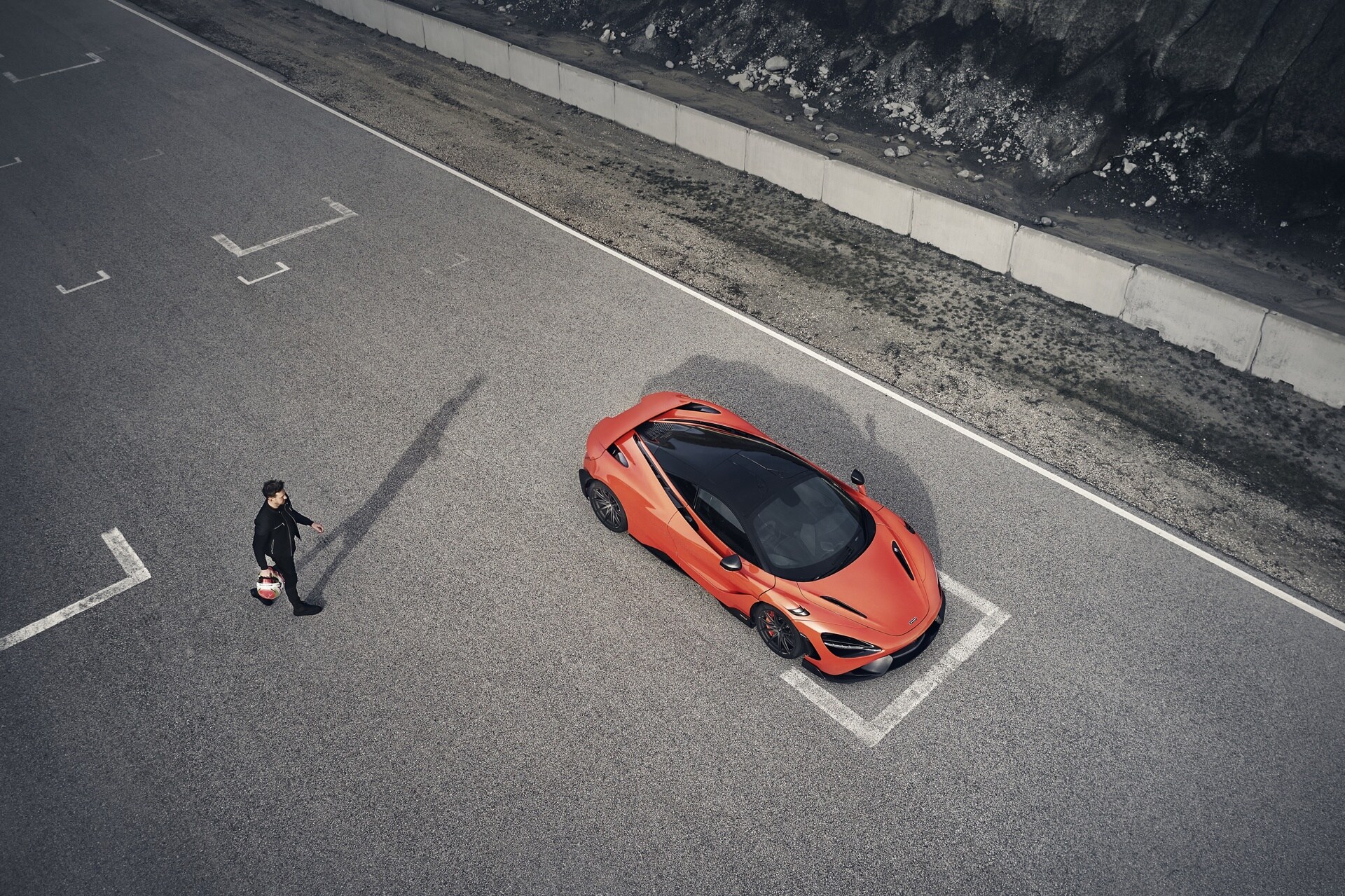 ROAR POWER
Every great engine has an unmistakable voice. It speaks volumes for pedigree and performance. Setting this voice free takes a boldly designed, beautifully engineered exhaust. The quad-exit full-titanium exhaust system in the 765LT is dramatic and exquisitely formed. Delivering a thrilling mix of searing soundtrack, visual drama and functional lightness. It's a work of art. Made entirely from titanium. Which means, despite featuring twice the number of exits, it's still 3.8kg lighter than the standard 720S exhaust. The sound itself is wilder and more penetrating than the 720S. And it sends a simple message, loud and clear… The next LT has arrived.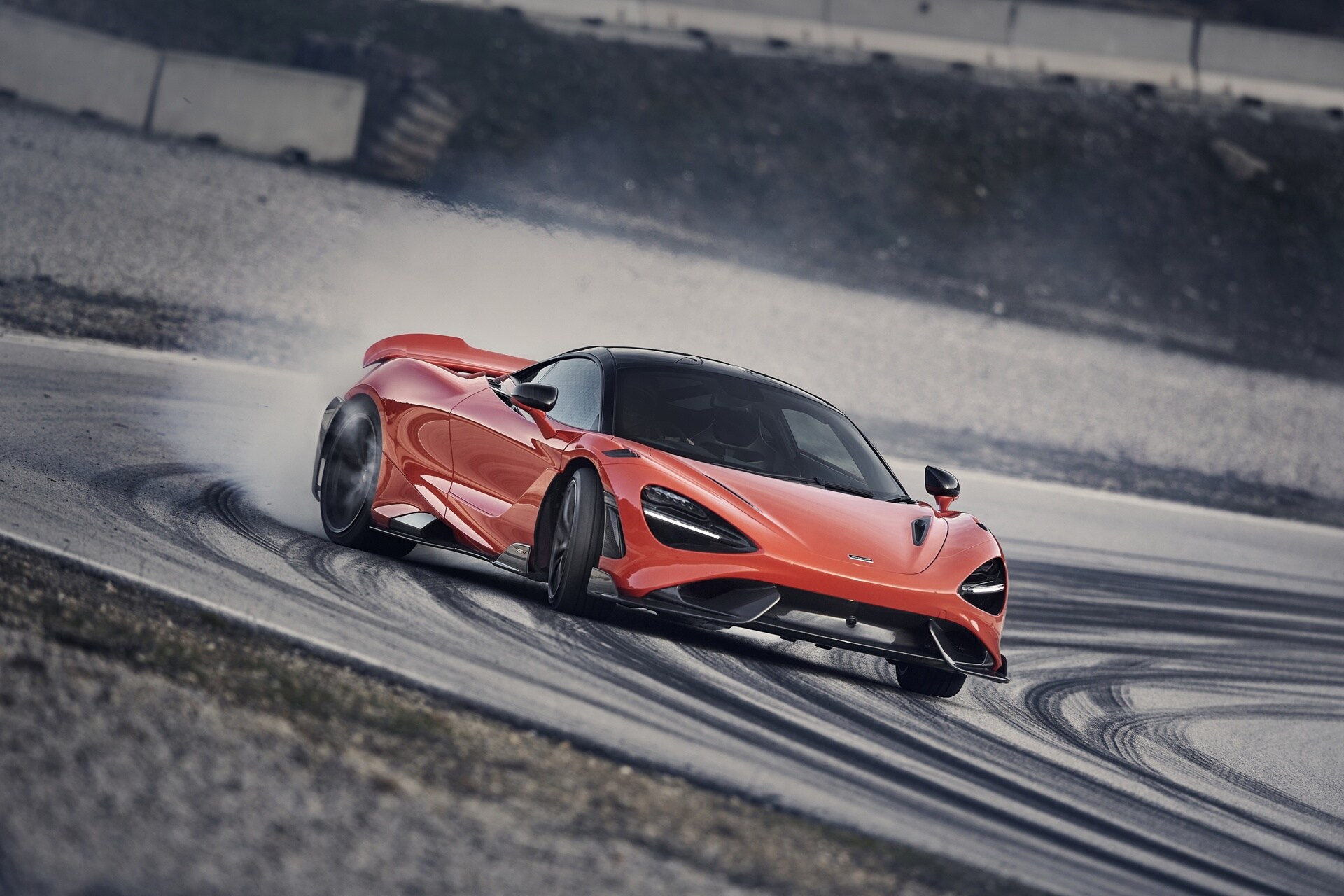 DYNAMIC PRECISION
Power means nothing in isolation. It needs to be deployed through a perfect balance of dynamic abilities. The 765LT harnesses and unleashes its huge power with visceral precision. A whole range of carbon fibre elements - from the front splitter to the new Longtail active rear wing - create 25% more downforce compared to the 720S. The specially engineered carbon fibre front floor helps to maintain this rock solid composure. Even when braking from high speed. Beneath its lightweight skin, the 765LT features ProActive Chassis Control II - complete with software and hardware updates. This is suspension technology for the outer limits - closer to the edge. Newly calibrated transmission subtly reduces the aggressive punch between gears if the car is nearing the limit of grip. Giving the driver extra control. Every innovation and revolution intensifies pure feel and total engagement.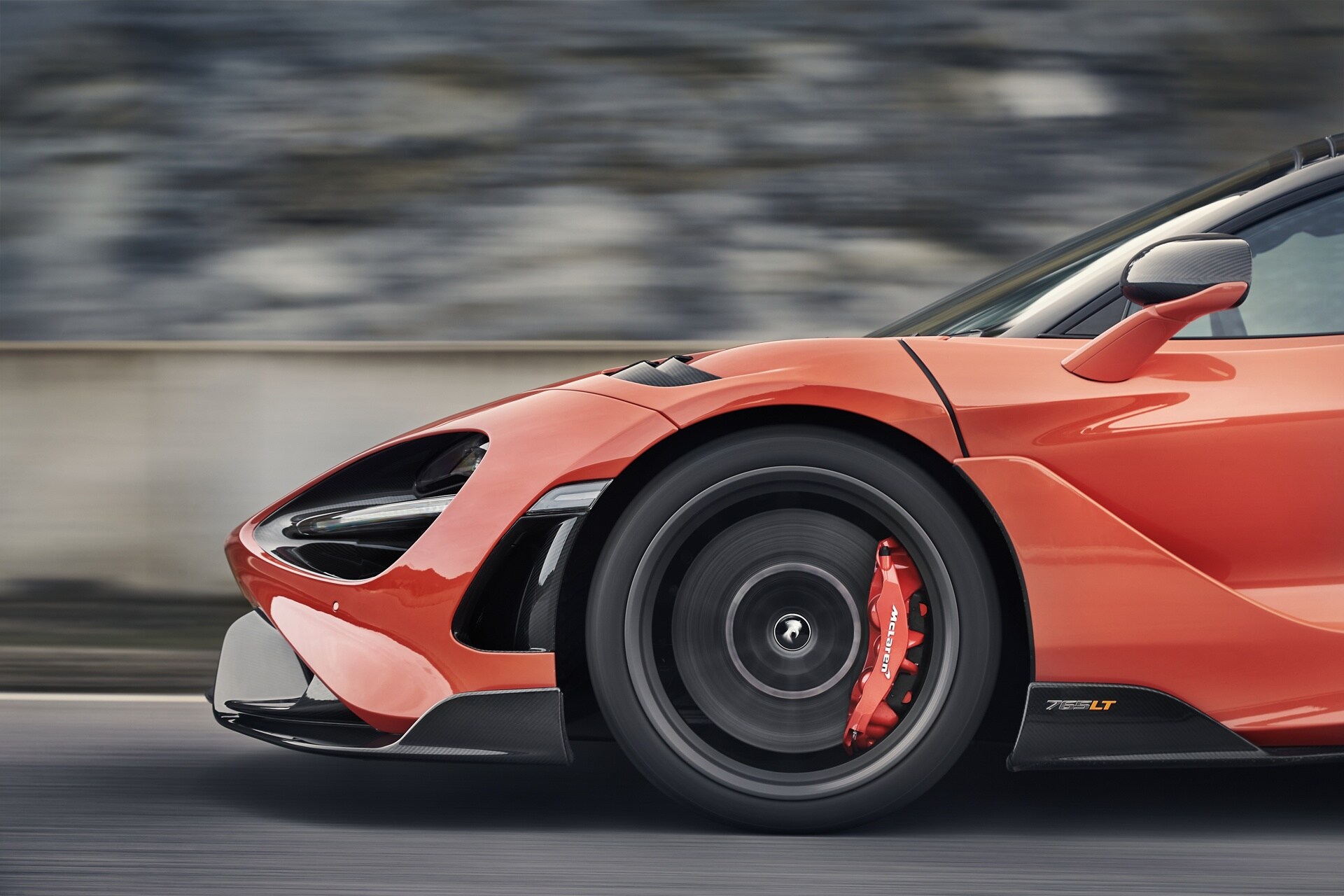 RFIGHTING WEIGHT
The 765LT was always going to be outrageously light. Like every Longtail before it. And the car that it's based on - the 720S - is already a model of lightness and agility. To be better than the best - to take the LT line another leap forward - this car had to go on a merciless weight cutting programme. One that scrutinized every component, feature and system. By making the 765LT a full 80kg lighter than the 720S, we unleashed a car that's ready to do justice to its name.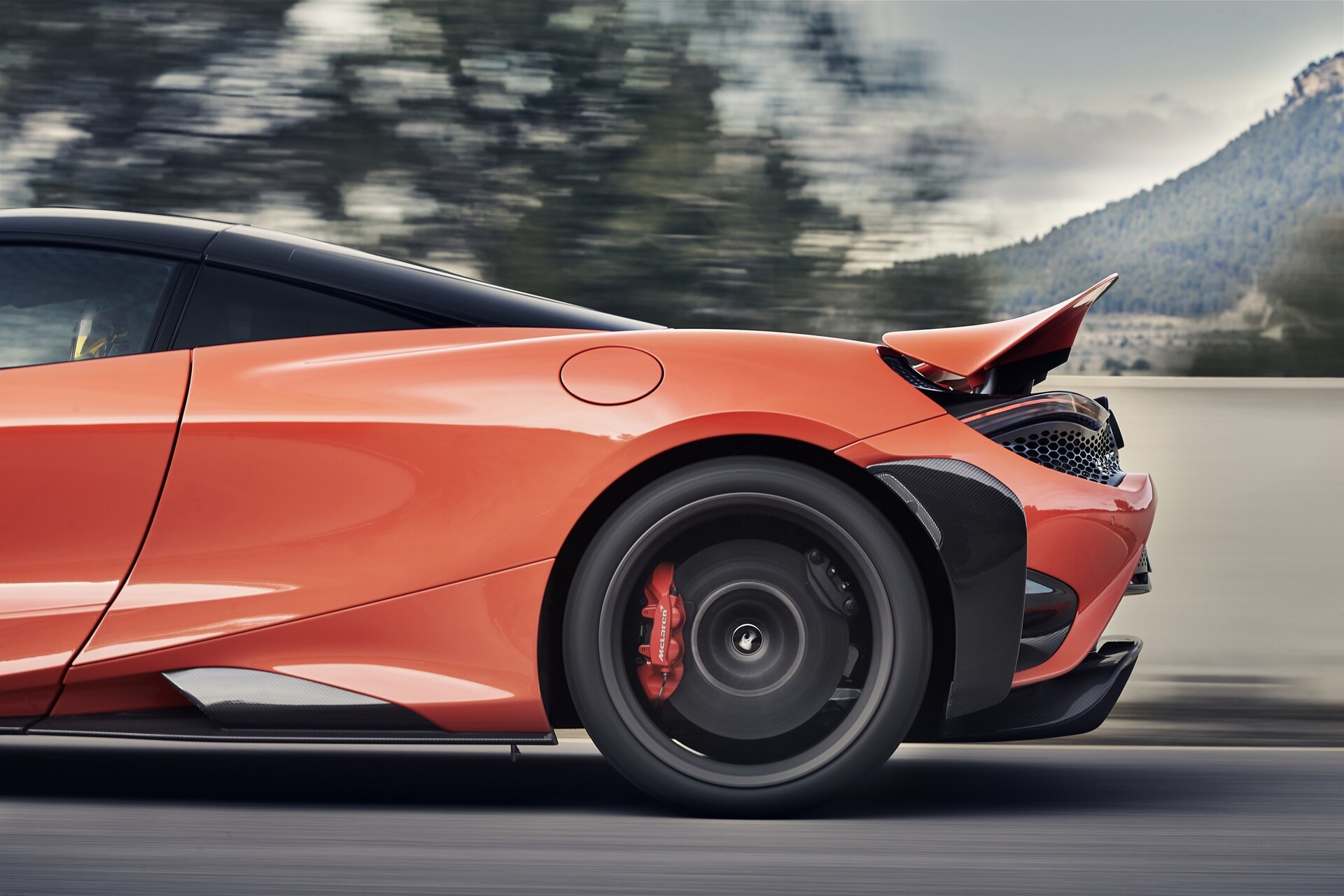 UNSPRUNG ADVANTAGE
The weight of each wheel is unsprung weight. It's not supported by the suspension. Saving it creates a big advantage, because every kilogram cut here is worth the same as 4kg in sprung bodyweight. On the 765LT, the all-new ultra-light 10-spoke alloy wheels with optional laser-etched logos cut 22kg from the standard wheel weight on the 720S. These stunning wheels use lightness to brilliant effect. They contribute to the sublime handling balance, and to the 765LT's ferocious acceleration and massively powerful braking ability. Creating tyres to keep pace involved working closely with McLaren's Technical Partner, Pirelli. The result is a bespoke P Zero™ Trofeo R design. A tyre that picks up where those used on the McLaren Senna left off.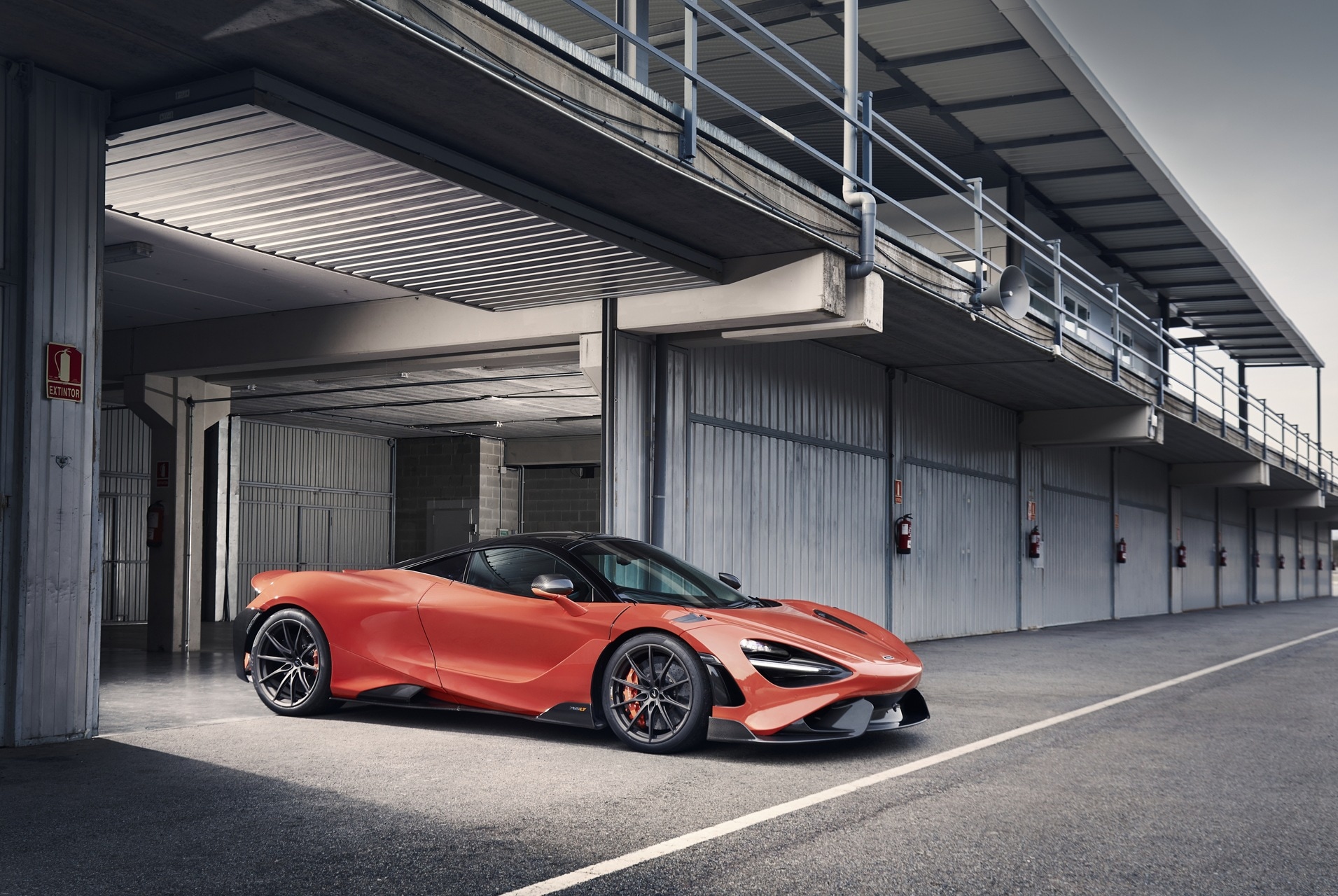 BEYOND NUMBERS
765PS. Enough power to change the game. To make history. Because the 765LT is the most powerful LT model ever. It raises the bar. And rewrites the rules. The McLaren -designed 4.0 litre twin-turbocharged V8 produces 45PS more than the mighty 720S. A number that sounds far less shocking than it feels. But in a 1,339kg car with such singular, obsessive purpose you quickly leave the numbers behind. Nothing prepares you for the feeling. Intoxicating, focused power. Delivered with emphatic, savage precision. Deep reserves of torque help to make the 765LT tractable, flexible, ultimately usable. 800Nm from 5,500rpm to be precise. But this is about much more than numbers.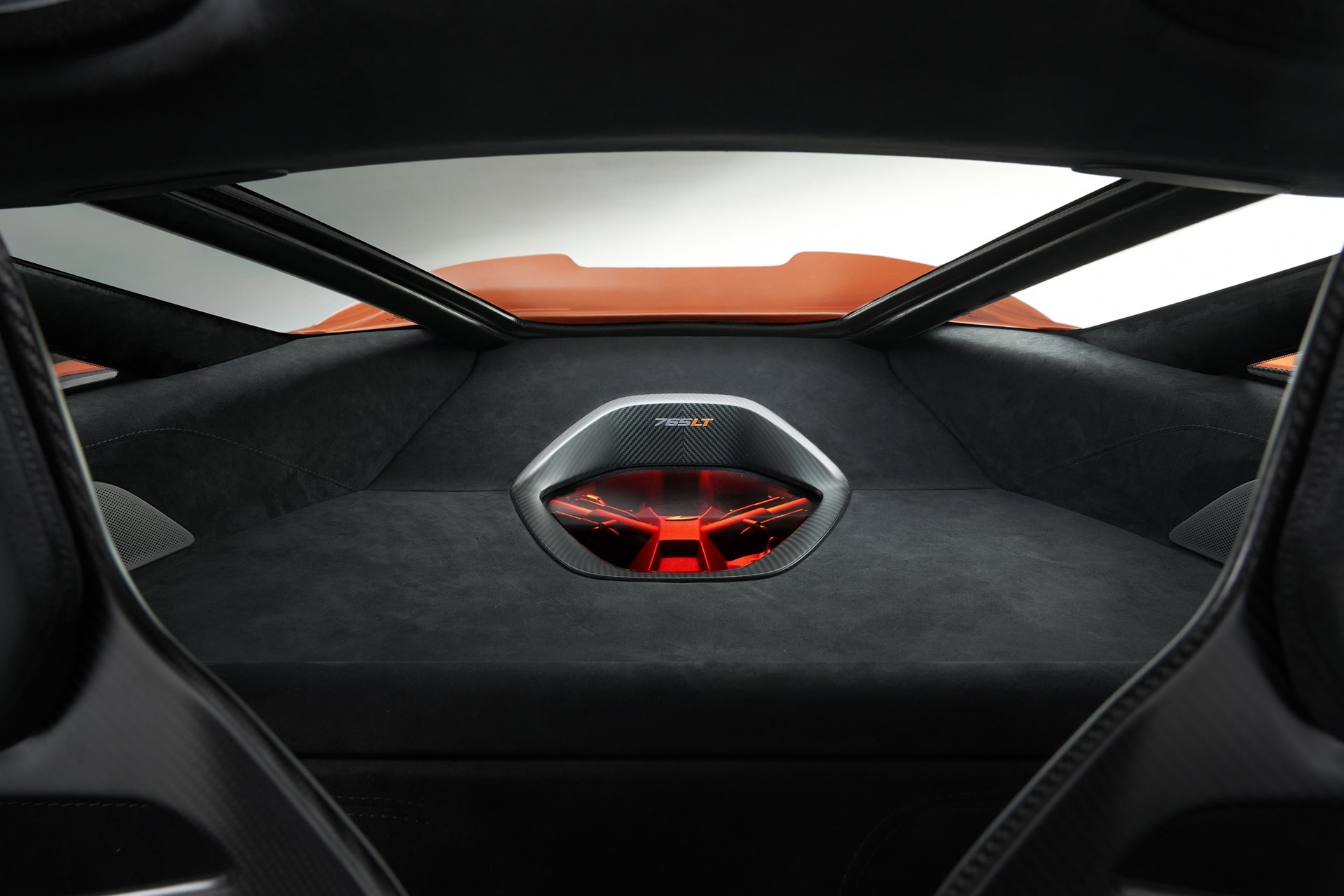 BLOODLINE
Shared DNA. It makes every McLaren special. Unmistakable. The volcanic engine at the heart of the 765LT is living, breathing proof. It's fundamentally the same world-beating powerhouse you'll find in the 720S. Enhanced with LT engineering… The result is a howling, thrilling 4.0 litre twin-turbocharged V8 that redefines performance and responsiveness on road or track. A design we have made our own. And a design we have tirelessly honed to take LT to the next level. That means introducing a triple-layer head gasket from the McLaren Senna, plus uprating the high-flow fuel and oil systems. While the optimised gear ratios, with a unique final drive built from Formula 1 derived materials, take acceleration to a new apex.